Dear Nomads
After last week's Death-of-Diana-Post-AGM-Planecrash newsletter I'm happy to say that this week's edition is going to be wall-to-wall fun – like a brightly coloured children's play-pit filled with kittens and puppies. Imagine a world where Princess Di stumbled out of that crumpled Mercedes in the Paris tunnel with nothing more than smeared lipstick and a broken stiletto. She's survived the indignity of losing out in the public vote to Chris Akabusi in the first Celebrity Big Brother and can still be found shuffling around Kensington Palacea in her slippers, fading gracefully like an old Chesterfield sofa – her signature look perma-frozen by one part botox and two parts styling mousse giving her the appearance of an up-market and slightly ironed Pat Butcher. Yes, the club is no longer doomed due to the amazing news that several people have stepped forward to say that they'd be willing to fill the vacancies on the committee! The club is saved and the good times are on their way again! Wahay. Once the new roles have been confirmed I'll let you know who is doing what and how they intend to make a difference to all our lives.
Christmas Curry
The annual Christmas Curry is fast becoming a tradition in the Nomads, and once again Stuart Anderson has kindly taken on the task of organising it. The date is set for Friday 8th December, and the cost is just £16.50 (incl. service) which gets you the foillowing range of dishes to be shared by groups of four:
Starter: poppadoms etc.
Main: a selection of four curry dishes (lamb dhansak, chicken korma/masala, vegetarian).
Accompaniments: rice, veg, nans
The venue is 'The India Garden' in Burgess Hill. If you'd like to go please contact Sturat Anderson ( stuartanderson@hotmail.com ) to reserve a place and arrange for payment in advance. Excuses for not going include going to see 'Cabaret' and 'Bananarama' – if you can do better than those please add them to the thread on the website.
Monday Night Turbo Sessions in Brighton
Liz Halliday has been in touch to kindly offer Nomads the chance to join in with some turbo classes that she has organised in Brighton:
Erica Martin and Liz Halliday will be leading turbo sessions for Brighton Phoenix on Monday Evenings from 7pm-8pm at Downs Infants School on Ditchling Road, Brighton BN1 6JA. Parking is available in staff car park. Use the Main Entrance to access the hall.

If any Sussex Nomads would like to attend these sessions you are welcome but please let Liz and Erica know in advance.

Sessions will begin on 30 October 2017 then every Monday through to and including 18 December 2017, then after Christmas break we will start again on 8 January 2018 at which point we will send another message with dates through to Easter.

To cover hall hire costs we will charge £4 per session payable in cash or cheque (to Brighton Phoenix) before the start of the session or by bank transfer to the Brighton Phoenix bank account in advance.

If you pay by bank transfer please put "Turbo" and your name in the reference and email Liz and Erica when you make the transfer please so we can get our treasurer to confirm receipt.

You will need to bring your bike and a turbo trainer plus mat or towel to drip on (you will sweat a lot). If you want to do the session but don't have a turbo trainer please email Erica and Liz and we will see if we can help out but please give us good notice.

We ask that you arrive by 6:50pm and be prepared to set up very quickly and similarly pack up quickly so we can maximise the training time. If we get a good turnout each week we may be able to consider extending the time of the sessions.
Nomads in Action
It was an unusually busy weekend just gone for the competitive Nomads – with me, Ben Griffin, Ian Kentsley, Steve Noake and Kev Witton taking part in a cat 3/4 race at the Cyclopark in Kent, and Gary Jones racing in the Cyclo-cross at Leeds Castle where he finished in the middle of the bunch. The road race cruelly exposed my lack of fitness, leading me to drop out after just 3 laps, and the pace up the long finishing drag also led to Kev and Ian to be dropped eventually amongst many others. Steve and Ben looked comfortable in the front group of about 20 until Ben had the misfortune of picking up a puncture. Despite quickly grabbing one of Kevin's wheels Ben was left with too much work to do so settled in with Ian in a small chasing group, leaving Steve the only Nomad left in the front group, where he stayed until the end. No points were gained, but it was great to see Kevin and Ian join the growing list of Nomads who've had a crack at racing this year.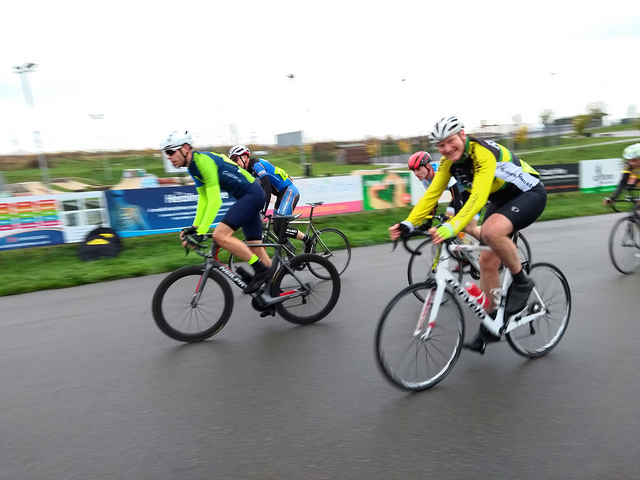 Reliability Trial
Next Sunday (19th November) many members are taking part in the reliability trial being organised by Brighton Excelsior. There isn't currently a club-run listed on the website for those members that aren't taking part. Keep an eye on the website's calendar to see if a suggested route gets added later in the week.
Have a lovely week
Alex