Dear Nomads
After a week off due to <insert_excuse_here> the Nomads News is back with a double length edition full of words and some pictures, and no mention whatsoever about Lady Di or plane crashes.
Reliability Trial
Sunday 19 October was a busy day for the Nomads with many of the members opting to take part in the Reliability Trial organised by Brighton Excelsior rather than a club run. The event used an unfamiliar route north and west of Steyning covering 51 miles with a vicious slope that ramped up to about 20% at about the 30 mile mark. Nomads were split into two groups, with riders choosing to tackle the course within 10 minutes of 3  or 3.5 hours. Although this meant that average speeds were not that different to those found on club-runs, the fact that the clock was constantly ticking even when you stopped at traffic lights meant that the actual moving average speeds had to be much higher. Riding a 'positive split' (where you try and get half the distance covered in less than half the allocated time) is usually the best strategy for such events, and so it proved when the 3 hour group were delayed by about 15 minutes in the first hour when Howard Foskett punctured. This led to us needing to ride stupidly fast in a final hour which was simply one of the hardest I have ever experienced on a bike. Ian Kentsley and Steve Noake's dragged my sorry-bottom around the final part of the course and the time-cut was achieved with seconds to spare. Almost all the Nomads that set off made the time-cut – we didn't win the event, but we certainly didn't lose it either, and I'm sure we'll be back for more next year.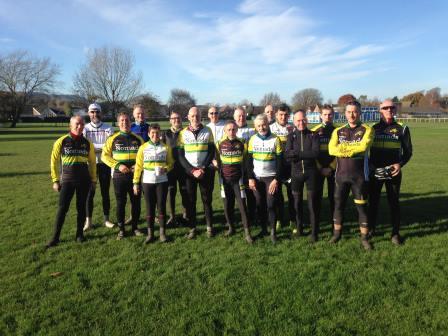 Cyclo-Cross
Meanwhile, Gary Jones was ploughing a lonely furrow in a muddy field somewhere in Kent – below he explains why…
I'm not sure if EVERYONE knows that I've caught the Cyclocross bug and talk about it incessantly. If not, ask me about it on a club ride one Sunday…..

Last week was my 5th race so I thought I'd take advantage of Alex's request to help fill his weekly news and give you a summary of how it's gone.   You never know, it might tempt a few of you to join me.

Having been sold the idea by a large group of enthusiastic Nomad CX racers it turned out that they're having a season off and I've been the sole flag bearer for our club for most of the season (Helen's absence through injury is a shame as she did well in round one).  I've used this situation to prove that naive enthusiasm IS a partial substitute for experience; especially when there isn't anyone to witness your rookie mistakes (well, no one who knows me).

My first race was amongst a bewildering mess of plastic tape scribing a twisting course around Happy Valley. There were people and bikes everywhere, and they all looked like they knew what they were doing.  Soon I'd be among that number, I dreamt, as I walked around.   I signed on, was given a number, and suddenly I was a racer!   I could already see the accolades and trophies….

Reality intruded on my day dreaming when I had to ask someone about tyre pressures.  As he was about half my weight I doubled his answer and set off to warm up.  One lap of the course took me around the park and through several sections of woods where grip became an issue.  I stopped, let out more air from my tyres and dashed to the group awaiting 'gridding'.  This is the same ceremony that you'll have experienced in games class at school.  Everyone lines up but instead of being picked by the team captain you get your name called by the officials.  I patiently listened to the names of all my fellow racers being called in order of their league ranking.  And then was among the small group of no-names who were told to form the back row.

I knew Alex and Steve would be watching as they were helping Preston Park Youth Cycling Club to host the event.  They're both seasoned racers.  I wanted to impress.  So I treated them to my start-fast-and-fade-away technique.  Made much worse by wearing too much clothing, getting too hot, and having to strip off a base layer mid-race. I barely remember the race as I was exhausted by the end of lap 2, and ceased counting the laps after 3 or 4.  I pedalled for what seemed like forever and stopped when everyone else did.  80th out of 94, somewhere in the group of no-names I started with.  Dreams of trophies disappeared, but at least there isn't any photographic evidence of me undressing on the course.

I'll spare both you and me the indignities of describing too much of the other races.  There have been incredible highs and frustratingly cruel lows.  Racing, passing, and being passed for 29th position was amazing.  Setting of with road pressures in my tyres and dropping to last when I stopped to deflate them was dispriting.  Riding new obstacles for the first time is equal parts trepidation as you approach  and elation when you're successful.  Crashing seems to be thing to laugh at.  And banter whilst riding is almost obligatory.  Everyone I've met has been competitive but polite, even getting lapped is preceded with a courteous "leaders on your left".

The only downside to everything happening in slow motion is that CX racing does not flatter on Strava!  All that effort for a 9mph average and 300ft climbing.  It feels like ten times or one-hundred times that when you're there.  But don't look at the stats, come along and try it for yourself.
Before CX…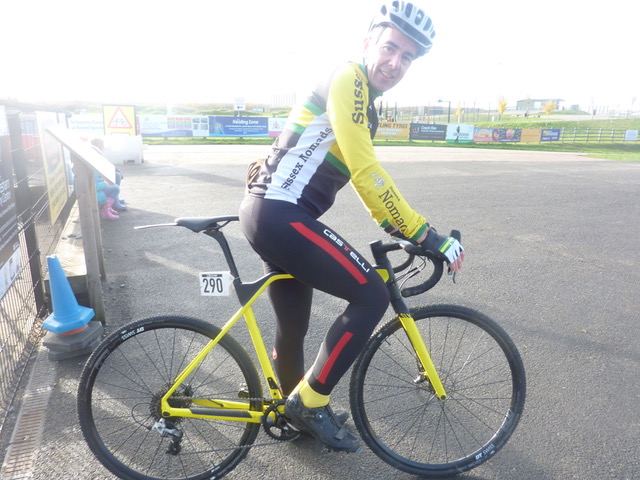 …and after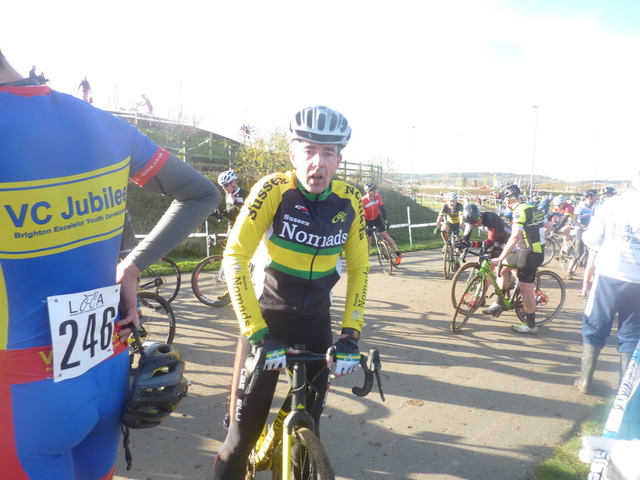 With Gary unable to take part in the Cyclo-cross last Saturday due to something called 'family' he kindly lent his bike to Steve so that he could have a go instead. I joined him for my first race of the season on the purpose-built course in Penshurst. Having ridden mountain bikes in the past Steve was pretty comfortable dealing with the various technical challenges, stayed upright throughout, and managed not to break or even scratch Gary's Canyon, despite sections of the course being deeply cut-up sludge-filled bogs. Yet again I picked my way round at the back – making my way through the obstacles like the Duchess of Kent on a bushtucker trail – whilst the 'serious' riders steamrollered past lap after lap. For a fascinating graphical animation of the race take a look here to see how muddy-disorder can emerge from the ordered start of a bike race and the huge gulf in talent and speeds you'll find in a typical cross race. Anyway, once the actual race had finished and my dry-wretching had stopped Steve and I both immediately forgot all that had just happened, agreed that it was a brilliant event that we really should do it more often. Finger's crossed that Steve's difficult negotiations will lead to a favourable outcome by Christmas, so that permission is granted for a CX bike to added to his collection, and Gary has someone to keep him company in future races. If you're interested in having a go at CX speak to Gary or Helen or reply to this email and I'll put you in touch with them.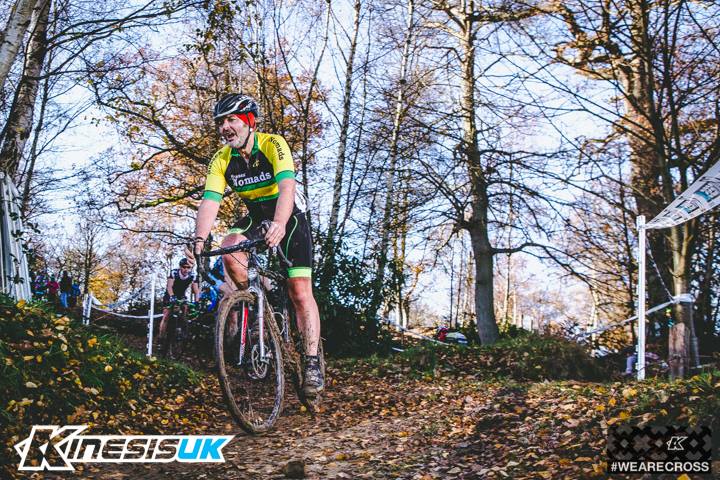 Nomads Trophies and Prizes
Adrian writes:
Anyone holding Nomad trophies, can you please make arrangements to return them to Adrian Morris ASAP, for engraving. Those attending the committee meeting 28/11/17 at the New Inn in Hurstpierpoint  please bring your trophies along to the meeting. Those not attending the meeting and in the area, can drop them off to me at the meeting, I'll be in the back room from 7:00pm until 08:00pm.

Please use the attached form for people to send me their years racing details in order to claim any trophies – it's vital to send the form to claim any of the trophies, as I haven't got a crystal ball, its up to you to let me know.
Curry Night – Last Call
Places are still available on the 'Curry Night' (Friday 8th December) see this thread for details. You must pay Stuart by Thursday night however so be quick!
That's it – I'm all newssed out. Have a good week
Alex