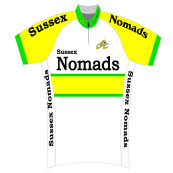 From 2017 Kalas has been the supplier of Sussex Nomads Club Kit, after requests to have a more modern race fit oriented kit supplier.
Kalas are a major supplier to many teams including the GB National team. Choose from summer and winter jerseys and gilets.
We are able to offer most of the items in all four of our current kit colours, unfortunately minimum order levels restrict us from ordering them in small numbers. We hold some of the more popular items in stock. You can also order  items that are out of stock but there may be a delay of a few weeks before the item is ready for you to collect.
The table above is a list of the items that we currently have in stock.
Click on the Kalas image below to place an order.