Dear Nomads,
I really do hate to start this newsletter on a downer, but I am writing this part first out of respect for our friends at Sussex Revolution VC, and out of respect for a fellow cyclist, Chris Hewitt, who some of you will have known, raced and ridden with.  Sadly Chris suffered a cardiac arrest during a bike race on Saturday at Cyclopark. Despite prolonged attempts by marshalls, fellow cyclists and ambulance crews, Chris did not pull through. Our heartfelt condolences and deepest sympathies go out to Chris's family, friends and all his club mates at SRVC.  If you knew Chris, and want to share your condolences or memories about him, then SRVC are encouraging people to do so on their FB page here: https://www.facebook.com/sussexrevolution/
Now to lighten the mood with some good news from the weekend.  Firstly, a massive well done to Gemma, Sharona and Janet, who were in action at a very fast paced SCRL race at Preston Park on Sunday morning.  The weather made the conditions less than ideal, but they did really well, with Sharona making her racing debut, Janet holding firm in the bunch and Gemma picking up BC points after some fast and furious sprints.
Well done also to Eoghan, Pat, Alex and Tim for completing the 145km (with 33 km of cobbles) Paris Roubaix Challenge on Saturday, and also to Steve Noake and Kev Witton for completing the 172km route (with 50km of cobbles) Unfortunately Pat came off his bike during the ride and injured his soldier, but like a true pro he got back on and rode the cobbles to finish line. Get well soon Pat!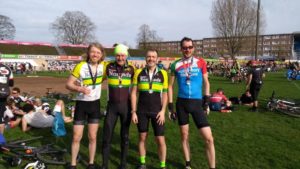 Now, do any of you fancy giving track cycling a go at one of the world's finest velodromes? Well, here's your chance! We have reserved a private session for club members at Lee Valley Velopark on Saturday, 30 June from 8am to 10am. We will have two groups of up to 10 riders per group. One group will be reserved for people who have never ridden a track bike before and the other group for those who have. Each group will have a coach/trainer from Lee Valley to guide them (we hired a coach on our last visit and it really helped to get the best experience from the day).
The cost is £30 per person for the 2-hour session plus additional hire charges for the track bike and helmet (£12) and shoes (£7), making a total cost of about £50 per person. The club will collect the £30 hire collect in advance and the equipment hire charges are paid on the day.  Note: The club will pick up the £30 cost for any rider under 18 years of age so they will only pay for their equipment hire.  Riders must be at least 12 years old and be 4 ft. 9 in. tall. You ride at your own risk which means you must have valid individual insurance in place. There are FAQ's about it at the bottom of the Lee Valley website (click here for that) and if you want to see a video of what a taster session is like, then click here. If you are interested, or have any questions about it, then please contact willfaas@btinternet.com  Registration is on a first-come, first-served basis but he will keep a waiting list.  Will would like to organise car shares to drive up to Lee Valley, so any volunteers to drive will be welcomed.
Another event that is coming up is Prudential Ride London.  For those that didn't get a place in the ballot and want another chance to ride, then John McSorley has applied for us (via British Cycling) to get a club team place. We have consequently been awarded one mixed team, which comprises of 2 male/2 female riders.  If you are interested in taking one of these places to do the 100 mile PRL, then contact John (johnmcsorley@hotmail.com) before the end of April.  The ride is on Sunday 29th July and costs £69.  You must be a British Cycling member to take part.  Once John has a list of interested people, names will be pulled at random out of a hat to select who gets the places.
Next up I have a message from our club run secretary, Steve Ratford:
"As hopefully better weather prevails some Sussex Nomads club rides to look out for:
On Sunday 13th May the club run will be to a pop-up cafe being held in Steyning  Athletics Club where we hope to be joined by other local cycling clubs. This cafe is being organised by Helen Codling and profits raised will be donated to the Moldova village renovation charity that Helen works with.
Sunday 27th May. As well as the normal club ride from Ditchling there will also be a ride to the Surrey Hills starting from Faygate. Please see the Sussex Nomads website for details and routes and keep any eye out for WhatsApp postings nearer the time.
The Burgess Hill Bike Ride takes place on Sunday 3rd of June and all Nomads are encouraged to participate as it replaces to Sunday Club run i.e. no ride from Ditchling. Rides of 10 miles, 25 miles and 40 miles are available. For more details and how to enter please see: https://www.burgesshillbikeride.co.uk "
Lastly, James Hedley is cycling to Brussels to raise money for SANE, who are a great charity that work to improve mental health services, fund mental health research, and support families affected with mental health issues. Any donations, no matter how small or big would be greatly appreciated by James. You can sponsor him by clicking here.
That's all for now.  Good luck to everyone doing the Haywards Heath Bike Ride this Sunday.  It looks like spring is finally here and the weather will be great for it.  For those not doing it, the club run heads to Wiggon Holt RSPB reserve, and you can find the routes and info for it by clicking here.
Enjoy the rest of the week and have a great weekend!
Sally