A key attraction of the Sussex Nomads for established members is the weekly Sunday club ride that commence at Ditchling village hall. The aim is to provide an organised social ride that encompasses a wide range of cycling abilities and aspirations.
On a typical Sunday 20 to 50 cyclists meet at Ditchling and often four groups embark on a pre-planned route to a local café. The length, pace and terrain of each route is designed to be appropriate for each of the groups with the ride having a duration of approximately 1.5 to 2 hours. Each group has a leader who takes responsibility for following the route and setting an appropriate pace to ensure the group rides safely and together. All routes are available for download to a Garmin or similar gps in advance of the ride.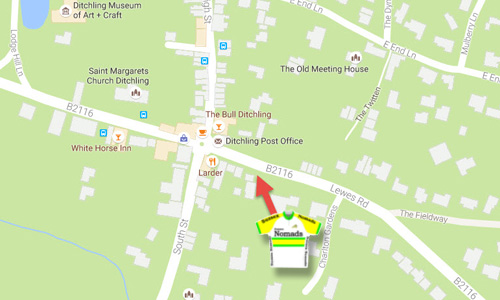 We are particularly keen to welcome new members to the club.  To that end we hold regular Come And Try It rides where those new to, or returning to, cycling can experience riding in a group.  Come And Try It rides are held on the first Sunday of each month. You do not need to be a member, just turn up at Ditchling Village Hall. The route for these rides is shorter than our normal rides and is flat.
Most of us remember the nervous anticipation of joining a group for the first time and our aim is to make this a welcoming and enjoyable experience.  Newcomers will be accompanied throughout the ride, both to the coffee stop venue and back to Ditchling and will be helped with any technical difficulties or queries.
We usually ride in up to four groups numbers permitting and operate a no drop policy:
Group 1 - Follows a longer and often hillier route. The group rides as quickly as it likes, normally upwards of 19-20mph (32kph);
Group 2 - Follows either the longer or the normal route, aiming for an average of around 17-18mph (30kph) on a flat rate route and slower on a hillier route but with the intention of maintaining a brisk but social pace for the terrain.
Group 3 – Typically follows the normal route at about 16mph (26kph) on the flat and an average for the ride of 14-16 mph. Compared to groups 1 and 2 this is a more relaxed ride.
Group 4 – Follows the normal route at a gentler pace and accommodates riders that are new to riding in a group or have a preference to take hills at steady pace.
Cold weather policy
The Sunday Club ride will be cancelled if the Met Office has issued a red weather warning impacting the area of the ride.
If the Met Office has issued an amber weather warning or predicted frost overnight and a temperature at 9.00 am below 3 degrees centigrade then members will be recommended not to ride.
A communication will be made on the Sussex Nomads website by 9.00 p.m. on the Saturday
How Club Runs work - Rules & Etiquette
We try to follow a few simple guidelines, which are aimed at keeping the rides safe and enjoyable for everyone:
Before the ride, we should know who's available to lead each ride - but if you have a Garmin or similar, please download the route so that you can help with navigation or find your own way to the tea stop if you get separated from the group;

At the start of the ride, the Ride Leaders will agree the length and speed of the ride and organise the riders into groups;

Unless a group is very small, its leader will nominate a Lanterne Rouge, who will stay behind the other riders;

The Ride Leader will give the other riders a short briefing to explain what the guidelines are trying to achieve and to make sure that other riders, especially those who are new to riding in a group, know what's expected of them;

The Ride Leader will review all this at the tea stop—it's quite possible to ride together at first and then split into faster or slower groups after cake, or vice versa;

During the ride, the Lanterne Rouge will signal to the rest of the group if anyone is struggling at the back or having equipment problems - it's very important that other riders pass this information on to the Ride Leader - and the Ride Leader will check regularly that he or she can still see the Lanterne Rouge;

The Ride Leader won't leave the front of the group unless there is a problem; and

If anyone finds themselves riding ahead of the Ride Leader, they must slow down until he or she re-joins them. If they reach a major junction before that happens, they must stop and wait for the ride to regroup.
As long as we follow these principles, it's impossible for weaker riders to get left behind, stronger riders have the option to get a harder workout, and everyone enjoys a smoothly running ride with a minimum of interruptions.
Younger Riders

Younger riders from 12+ are welcome to join club runs if they can keep up with at least Group 4 pace, but special conditions apply:
Ages 12 to 15 must be accompanied by a responsible adult; and

Ages 16 and 17 must provide a consent form signed by their parent or guardian - they only need to do this once, and can then ride unaccompanied.
Please help tactfully to enforce these rules, as the club could otherwise be held legally responsible in the case of an accident of if a younger rider became lost.
Tips for New Riders
If you're new to riding with a group, there are a few unspoken rules that you should know about:
T

ell the Ride Leader how far and fast you can ride, so that he or she can take your needs into consideration;

Always follow the Highway Code, and wear a helmet;

Carry a mobile 'phone and give the Ride Leader your number;

Ride two-abreast where possible, except on busy roads or fast descents—the Ride Leader's word should be law here.
The Ride Leader will give the other riders a short briefing to explain what the guidelines are trying to achieve and to make sure that other riders, especially those who are new to riding in a group, know what's expected of them; the Ride Leader, with the assistance of the Lanterne Rouge, will monitor progress and make any necessary adjustments to ensure all riders are comfortable with the pace.

Keep about two feet between your front wheel and the rear wheel of the bike in front of you, and about a foot away from the rider beside you;

Never overlap wheels with the rider ahead of you, as this forces the group to spread more widely across the road;

Never ride three-abreast unless you have a very good reason;

Cover your front brake lever when in close formation and brake as gently and smoothly as possible;

Pass on warnings about cars ahead or behind, or other dangers;

Always shout out if you're slowing or stopping, or raise a hand if it's safe to do so;

If you get a puncture, say so and come to a stop gradually;

If a rider ahead points down, they've seen a pothole;

If they points behind their back, there's a roadside obstruction;

At junctions, riders ahead will tell you if the road is clear, but look for yourself too. Cars will usually treat a group of riders as if they were a single vehicle, but be prepared for the occasional motorist who forces their way into the middle of a group;

If you're at the back and a car is waiting to overtake, look back from time to time so that the driver knows that you're waiting for an opportunity to let them pass;

If you're at the front, keep pedalling, even downhill, so that riders behind you don't have to brake;

If you want to sprint for a hilltop or road-sign, tell the Ride Leader what you're doing, take his advice if he or she says it's not safe and wait for the group to catch up as soon as you can;

If you're struggling, don't be too proud to say so;

Slow down for horses, call ahead softly so that they know you're there, and let them know how many bikes are behind you;

Always be courteous to motorists, and never start arguments or use offensive gestures—they don't help, even if you're in the right, and they spoil the atmosphere of the ride for everyone; and

Be considerate about where you choose to take a hedge-stop. There are plenty of places in Sussex where this isn't offensive!