Dear Nomads
Welcome to the new style newsletter to go with our new website. My plan is to add these 'Newsletters' as a blog post  and email you all to let you know it has arrived. You can of course unsubscribe from the email reminder at any time.
Anyway, here is a brief summary of what's been happening in the Nomads over the last two weeks:
Stuff that Nomads Have Done on Their Bicycles Recently
Well, it's been a busy couple of weeks for the Nomads since I last emailed you which can be summed up by the video below:
…OK, John and Sally McSorley, Ben Graves and Phil Birch cycled up and down a few hills in northern Italy a couple of weeks ago and some of you have just got back from the 'Dragon Ride' in Wales but, meh, you get the idea, not much has been happening recently.
Racing Round-Up
Except for the weekly TT's, racing has been thin on the ground lately. Personally, my body is sick of being in training and starvation mode and I'm currently mindlessly eating everything and anything I see. This of course leads to feelings of guilt and self-loaving, which in turn of course leads to more snacking. "It's OK," my mind lies to me, "It's the off-season," as I wince at the highlights of the Tour on telly whilst power dunking my way through a packet of Bourbons.
For those of you still taking part in the Summer TT's here are the results from the last couple of weeks which I have quite literally copy and pasted from here:
Thanks to Ade Fadero for volunteering to marshal, as he was due to ride the following morning in the Crawley 10 at Faygate.
With only three events left you still have time to gather or improve your points totals to be in the running to be series champion.
event #11
 
 
 
 
 
 
Name
07/07/2017
pts
 
Running Total Points
07/07/2017
John Tindell
22:31
20.0
 
Alan Dainty
86.0
Steve Noake
23:49
19.3
 
BenGriffen
 
82.8
Alan Dainty
24:20
18.7
 
Ade Fadero
79.9
Eoghan McHugh
25:48
21.9
 
Adrian Bennett
63.9
Jason Green
26:11
11.7
 
Michael Thyer
60.8
Neil Glover
27:11
8.7
 
Howard Griffin
60.2
 
 
 
 
Jason Green
59.6
 
 
 
 
Jo Fleming
49.5
 
 
 
 
Neil Glover
47.1
 
 
 
 
Will Faas
47.0
 
 
 
 
Chris Hewit
46.7
 
 
 
 
Steve Noake
42.1
 
 
 
 
Eoghan McHugh
41.9
 
 
 
 
Carl Farrel
37.5
 
 
 
 
Lucy Williams
33.1
 
 
 
 
John Tindell
20.0
 
 
 
 
Rob Hoodless
20.0
 
 
 
 
Martin Oneill
20.0
 
 
 
 
Tim Rank
20.0
 
 
 
 
Anthony Vince
20.0
 
 
 
 
Michael Renardson
20.0
 
 
 
 
Nick Dwyer
20.0
 
 
 
 
Kevin Witton
20.0
 
 
 
 
Ross McCracken
20.0
 
 
 
 
Claire Rank
17.5
———————————–
Below are the results from the 9th 10mile of the season, congratulations to Ross and Kevin in their  first ever time trials  both recording very respectable times.
My thanks to Alan Dainty for doing marshaling duties this week, also thanks to Tim Rank who arrived to with offers of assistance if needed.
Ade Fadero has offered to marshal the event next week, thanks Ade.
event #10
 
 
 
 
 
 
Name
30/06/2017
pts
 
Ross McCracken
23:36
20.0
 
Kevin Witton
24:26
20.0
 
Ade Fadero
25:01
20.2
 
Jason Green
25:22
16.8
 
Adrian Bennett
25:26
18.0
 
 
 
 
 
Strava Leaderboards
Well done to Paul Snow who dominates last week's Strava leaderboards!
Coming Events
Tuesday 11th July
Nomads committee meeting, 8pm New Inn, Hurstpierpoint – On behalf of the club, we'll be debating what changes, if any, need to be made to the following strongly worded communique drafted by our Secretary Will Faas to the Tour organisers, ASO: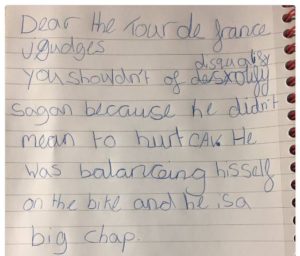 Wednesday 12th July
SCRL Track night at Preston Park 6:45pm (weather permitting)
Friday 14th July
Nomads 10 mile TT – 7:15pm sign on Wineham Lane – contact Adrian if you can help out with marshalling or would like to have a go at time-keeping.
Surrey League Dunsfold Crits 7pm – Mens 4th cat, Womens 3/4 cat
Sunday 16th July
Interested in racing next year?
If any of you reading this are interested in starting road-racing next year, please do get in touch. Eoghan McHugh is looking into doing the two '4th Cat Racing Accreditation' sessions that are required for all novice racers taking part in many of the races in this area, and it would be great if others joined him. If you can ride at the pace set in Group 1 or 2 on club-runs, and enjoy pushing your limits on the bike, then you will almost certainly enjoy the thrill of racing.
Interested in Cyclo-X this winter?
The provisional calendar for the London, Sussex and Kent cyclo-x leagues has been published, and can be found here. Cyclo-X is probably the most accessible type of racing there is. You can ride any of the events on a mountain bike, or use it as an excuse for buying yourself a new bike. Races are short – less than an hour long – and are split by age group, with races for kids and juniors, seniors, 40+ veterans, 50+ veterans and women. Within the categories there is a wide range of abilities racing, with the racers quickly spread all along the length of the course. Despite being accessible to all, it's one of the hardest work outs you will ever have on a bike as you battle to force the pedals around on grassy and muddy courses without the benefit of drafting. Last year there were four Nomads (2 women, 2 men) who regularly 'raced' in some of the events, with a few others joining us in the team championship in February. If you'd be interested in having a go at cyclo-X this year please get in touch with myself, James Hedley, Gemma Hobson or Helen Webb.
NEW FEATURE! Tweets of the Week for Those of You Who Don't Waste All Day at Work on Twitter:
That wholesome feeling when you think you are contributing but you really have no idea what you are doing. pic.twitter.com/80JzQKrdkH

— Stuart Rutherford (@doodlewhale) July 4, 2017
"So, how tough are professional cyclists?" ?@Ride_Argyle #stillgotround #TDF2017 pic.twitter.com/utVt8L03Dd

— Ash Coning (@AshConing) July 1, 2017
he crashed his bike pic.twitter.com/0J5oVy8UZI

— ? (@catsu) July 1, 2017
Have a good week.
SaveSave