Dear Nomads,
Well, where to start with this newsletter?  There have been so many achievements since my last one 3 weeks ago!  You only have to look at the Nomads strava club to see that those who use it are getting out and about quite a bit. Last week alone you recorded 7,500 miles between you in the Nomads strava club (if you use strava but are not aware of the Nomads strava club, click here to join it). I am fairly sure that is some sort of club record, and that doesn't even cover those who don't post their miles on strava so no doubt the mileage last week was way beyond that.
Anyway, probably the best place to start is with the epic achievements of those that completed the Wales In A Day ride on Saturday.  Dave Chalk (who I'm told was a fabulous Directeur Sportif for the day), has kindly done a brief write up on it for us.  Here is what he had to say:
"Caernarfon Castle was still shrouded in darkness as the clock struck 5am. Rain continued to fall but spirits were not dampened as sixteen intrepid Nomads rolled over the start line to commence their epic 185 mile journey south.
The long road down to Chepstow was horizontally deficient with the mountain passes of Snowdonia in the north, the Brecon Beacons in the south and numerous lumpy valley ascents in-between. The length of Wales combined to deliver 16,000 feet of gruelling climbing, shattering any plans of being home by tea time.
It was shortly before 8pm that the first batch of riders began to arrive in Chepstow. Ross McCracken and Kev Witton, closely followed by Yuriy Tymchenko broke the 15 hour barrier. We held our breath, but not for long as Jason Blenkarn arrived just ahead of the Nomadic peloton consisting of Ian Kentsley, Gary Jones, Malcolm Fisher, Steve Davison, Nick Wakerell, Howard Foskett and Peter Levenspiel. Eoghan McHugh, part way through his JOGLE mission, arrived soon after at around 8:30pm.
This left four adventurers out on the road. Their steady progress was interrupted by mechanical problems, heartbreakingly just seven miles from home. With limited options, the support crew hatched together plans A and B, but before we had a chance to use the words 'fingers' and 'cross' in the same sentence, news filtered through that they were on the move again.
We waited in the dark with baited breath, but with the clock pushing 10:30pm, a quartet of bright beams began to light up the last climb as Dan Mason, Dave King, Alan Davison and Howard Atkin appeared on the horizon before heroically rolling over the finish line.
Chapeau to the sixteen superheroes!"
Dave also put together a great video of the event.  If you want to watch it click here.  To see some more photos from the event, click here.
The WAID ride was a huge achievement, no doubt, but by far the biggest achievement in the last few weeks, has got to be the efforts of Eoghan on his JOGLE ride. He covered 1,000 miles over 9 days, which not only included the 185 mile Wales In A Day ride, but it included getting up the very next morning after that ride and doing another 129 miles.  The most impressive thing about his JOGLE adventure is that he did it self supported, so he carried all his sleeping and cooking gear with him along the route.  Eoghan has also raised funds for Surfers Against Sewage along the way.  They are an environmental charity who are working hard to clean up our coastlines and waters to keep them clean and free from plastic and toxins.  They also work hard to educate people about our waterways and the impact we have on them, and consequently on the plants and animals that we share our environment with.  Eoghan hasn't quite reached his fundraising target yet, so if you wanted to donate to congratulate him on his achievement I am sure he would be really grateful.  You can do so by clicking here.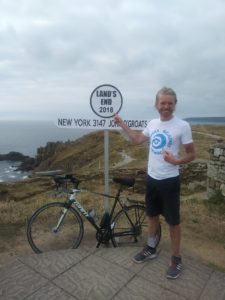 Next up, some racing achievements.  THE SCRL track league season at Preston Park has now finished and I am pleased to announce that Janet Clapton came 2nd overall in the women's league and Alex came 2nd overall in the vets league.  Well done to both of them.
You'll also recall that in the last newsletter, Adrian Bennett, Alan Dainty, Darren Bird, Gemma Hobson and Jason Blenkarn were all due to compete in the Crawley Wheelers 10 mile Open TT. Well, not only did they all compete, but every single one of them got a PB. Plus, Jason turned up on time AND he remembered his shoes! In fact he was so fast that he came 5th overall with a time of 21:36 and despite being on her road bike Gemma came second out of all the women and picked up some prize money.  Well done to all of them.  The following weekend Adrian, Alan, Gemma and Jason were in action again, along with Helen Webb and Michael Thyer at the Brighton Excelsior TT's.  Everyone got fast times, but Gemma ended up with another PB on her road bike of 26:07 in the 10 mile TT and Jason got a new PB on the 25 mile course of 57:47.
In other TT news, Janet has been entering a number of club TT's on her much loved vintage Claud Wheeler fixed wheel bike.  She set a new fixed wheel 10 mile record on our Nomads TT course of 30.47, which is impressive for a fixed wheel attempt on a fairly tricky course.  However, she smashed that time at a recent Lewes Wanderers club 10 event, finishing with 28:46. Congrats Janet, a really impressive improvement!
In other news, Paul Archer completed his epic Marmotte Sportive in the Alps, covering 179km and 5,817m of climbing, and he also raised over £1k for the Air Ambulance service in memory of his father.  If you'd like to support Paul's cause to congratulate him then you can do so by clicking here.
Another sportive accomplishment was gained by Diana Finnerty, Helen Newman, Joanne Sturgis, Mark Sturgis and Julian Gaston who all rode the 70 mile New Forest Summer Sportive the other weekend in the blistering heat.  For most of them it was their longest ride to date, so a really great achievement. Well done all.
I'm sure there have been lots of other adventures and achievements, but those are some of the highlights.  Our facebook page (and often twitter too) is hugely busy every day at the moment with photos, results and upcoming events, so do keep an eye on it and feel free to continue sending me info so that I don't have to stalk you all so much 😀
One exciting event that is coming up this Sunday is the Prudential Ride London 100 sportive.  I know many Nomads are taking part, and British Cycling also gave us a team place, so we have our very own Sussex Nomads team in it which consists of Diana, Amy and Daryl. Bruce was also due to be in the team but has sadly had to pull out and defer his place to next year due to injury (get well soon Bruce!).  Malcolm Fisher is also riding it and is using it to raise funds for the Martlets Hospice (click here to donate to him). Joanne Sturgis is also riding it to raise funds and her chosen charity is the Alzheimer's Society (click here to donate).  Mark Strugis, Julian Gaston and Oksana are also taking part I believe.  I have probably missed some people, but good luck to you all.  It's a really great event with a brilliant atmosphere and nothing beats the thrill of riding through red traffic lights on the closed roads of London whilst taking in all the sights, I am sure you will all have a great day!
Another event coming up that I mentioned in the last newsletter is on Sun 2nd Sept and it's a 'friendship ride', whereby 25 French cyclists from 3 different clubs are coming over to have a ride out with any Sussex based cyclists that are interested.   There will be 2 rides to choose from (70km and 100km), and the event is suitable for all levels of ability because the French riders vary from very quick to not quick at all! The starting point is the South Downs YHA, Itford Farm at around 8am. The cost to take part is £6 and several Nomads have already expressed an interest, so if you want to join in the fun, then let Will know (willfaas@btinternet.com)
Also, a reminder to you all that our 40th anniversary party will be on Saturday 22nd Sept at Westmeston Parish Hall. Tickets are £10 per person and you are encouraged to bring along family members or friends from other clubs.  We'll be putting together an order form on our website to reserve your tickets in the next few days so hopefully I will get that out to you next week at some point.
Steve Ratford has also asked me to mention that we have another pop up café in the calendar.  It will be on Sunday 12th August at Bodle Street Green Village Hall in Hailsham and will form our club run destination. It will be run by our very own Helen Codling, so it would be great to see as many people as possible showing their support for it.
This Sunday's club run is heading to Copthorne and you can find the route and information for it by clicking here.
Lastly, our evening 10 TT was cancelled last week due to roadworks, but the road is now clear, so it is back on tonight.  There are some potential storms forecast, but Yuriy once told me that the air pressure that comes with rains and storms can make you ride faster*, so you never know, you may get a PB if you go along!
Have a wonderful weekend everyone!
Sally
*Disclaimer: I only ever got terrible times when TT'ing before or after rain, so I have yet to see the scientific evidence of that little fact 😀